Meet the makers: Women of Steel
August 23, 2022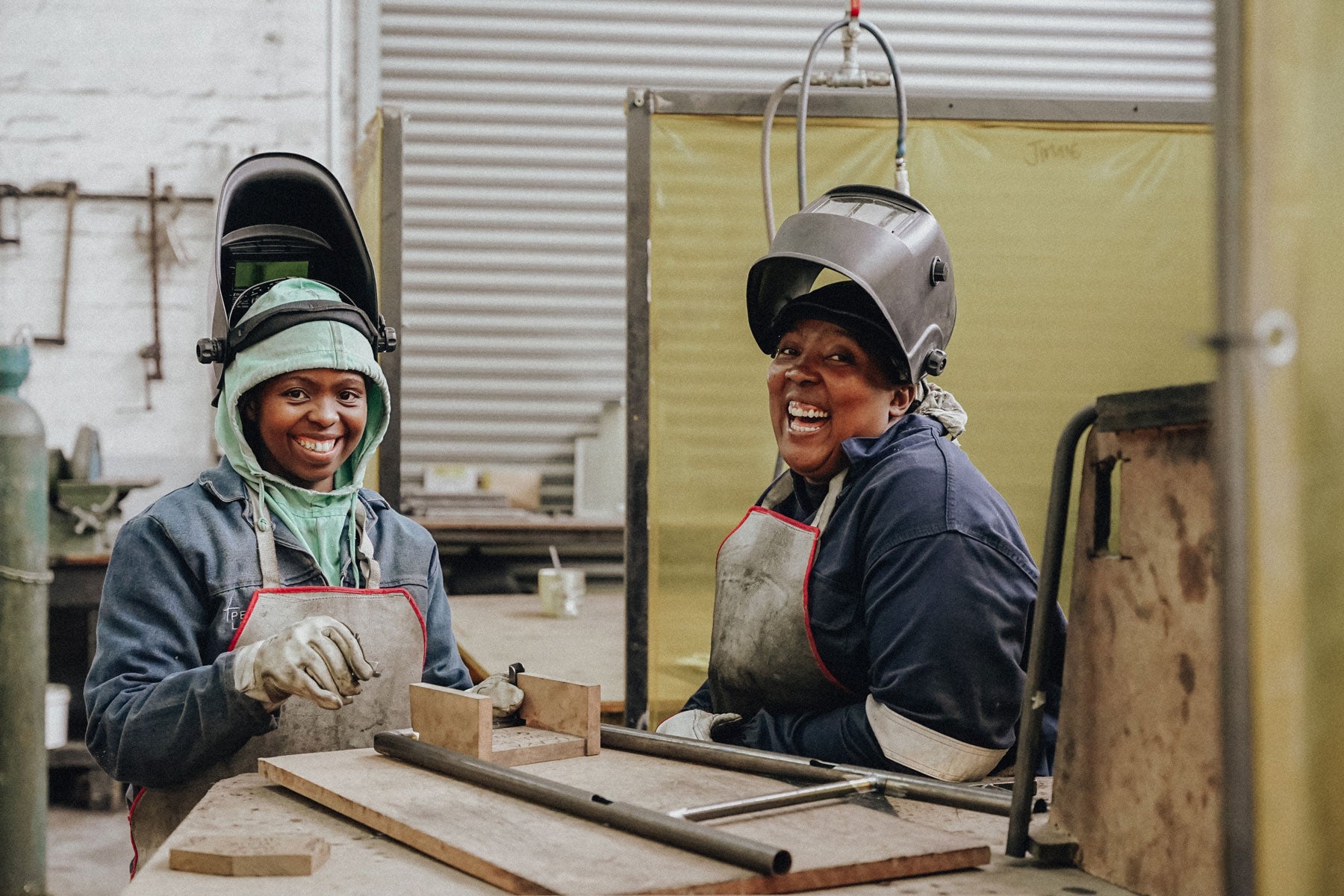 In honour of Women's Month, meet Vuyokazi and Siphokazi: two highly skilled and inspiring women in our welding team who handcraft many of our pieces.
Having both joined Pedersen + Lennard in late 2021, they're already an integral part of our manufacturing team. We caught up with them to find out a little more about their journeys, dreams, and current experiences working in a traditionally male-dominated industry.
Keep reading for the interview with our women of steel.
Tell us a little about yourselves and your early influences...
Siphokazi: I grew up in Bloemfontein. My father died when I was still young, so it was always just women in my family looking after everything. Fixing was a women's job for us – not a man's. I was one of the first girls to go to my technical training school. My mother was always such a strong woman – she had 4 very different children to raise and she let us grow in the way we each needed to. I'm sure she never imagined having a welder as a daughter!
Vuyokazi: I am one of 9 children and come from a rural part of the Eastern Cape. Sometimes, I had to cross rivers to get to school. And at school, there were no choices of subjects, fancy science labs, or computers. My father sadly passed away in 2015 – he was a strong, wonderful man. I'm strong like him, my mother is softer.
What do you love about welding?
Siphokazi: This is going to sound funny, but it's love that brings it together - not just the bond of the metal, but the bond you have with it, the love you have for what you do, it makes the difference...
Vuyokazi: Welding is actually an art. You need to plan well, think ahead, see it in your mind first, and then be part of the process. It's unforgiving too - you cannot undo anything if you make a mistake... you can grind, but then there will be defects and cracks, so you have to be confident, sure, and calm right from the start.

What's it like working at Pedersen + Lennard?
Siphokazi: I love it here - we make beautiful things. Each of us comes from a different place and we all grow at different paces, so it's important to observe first and try to understand a person before you react in a moment of pressure. We are always trying to grow the company and ourselves and to do our work the best we can.
Vuyokazi: It's been great - I love the challenge. Even though there are only a few women, if you are good at your job and do it well, everyone treats you well, with respect.
What's it like working together?
Siphokazi: We met while doing our apprenticeship. We're very different in personality, but when we work together - it's very beautiful.

Vuyokazi: It's actually very great. We can advise each other and in that way, we can both improve and grow stronger...
What piece are you most proud of?
Siphokazi: I love everything we make, it is all very beautiful. Once, I saw our Firenze Stool on TV, on Top Billing. I shouted to my kids, "Quick! Come and see what your mom has made!" It makes a person very proud and happy.
Vuyokazi: I love our KPA and Osaka chairs. My favourite piece to work on is the Osaka Round Table... I've loved those from the first day I met them! It's a lot of pieces that need to be carefully put together to make the perfect round shape.
Why should people buy local?
Siphokazi: It's very important. Us local guys have a lot of talent - what we make locally is much better than what you can buy overseas... you can also just tell when things are made with love and with real hands. Our stuff is built to last for a very long time.

Vuyokazi: Because we deliver the best quality, it's what you expect and more. We hardly ever get anything broken or returned from customers - we make sure it's made right the first time.
What are you most grateful for?
Siphokazi: For life. I'm grateful that throughout my life, God has been there with my family and me every step of the way.
Vuyokazi: For the opportunity to work here. I didn't know how I was going to feed my family – to not only survive but to move forward in life. Now I can take care of myself and my boy, my girl, my two younger sisters and help my mom too.
What would you say to other women?
Siphokazi: Don't fear - there's nothing to fear. Challenge yourself to stand on your own feet and pursue your own dreams ... if I did it, you can too!

Vuyokazi: I would say you are loved and appreciated – continue loving yourself and respecting yourself and be an example to other women. Let's treat each other with the same love and respect too.
---
Comments
---