Meet the designer: Luke Pedersen
August 18, 2023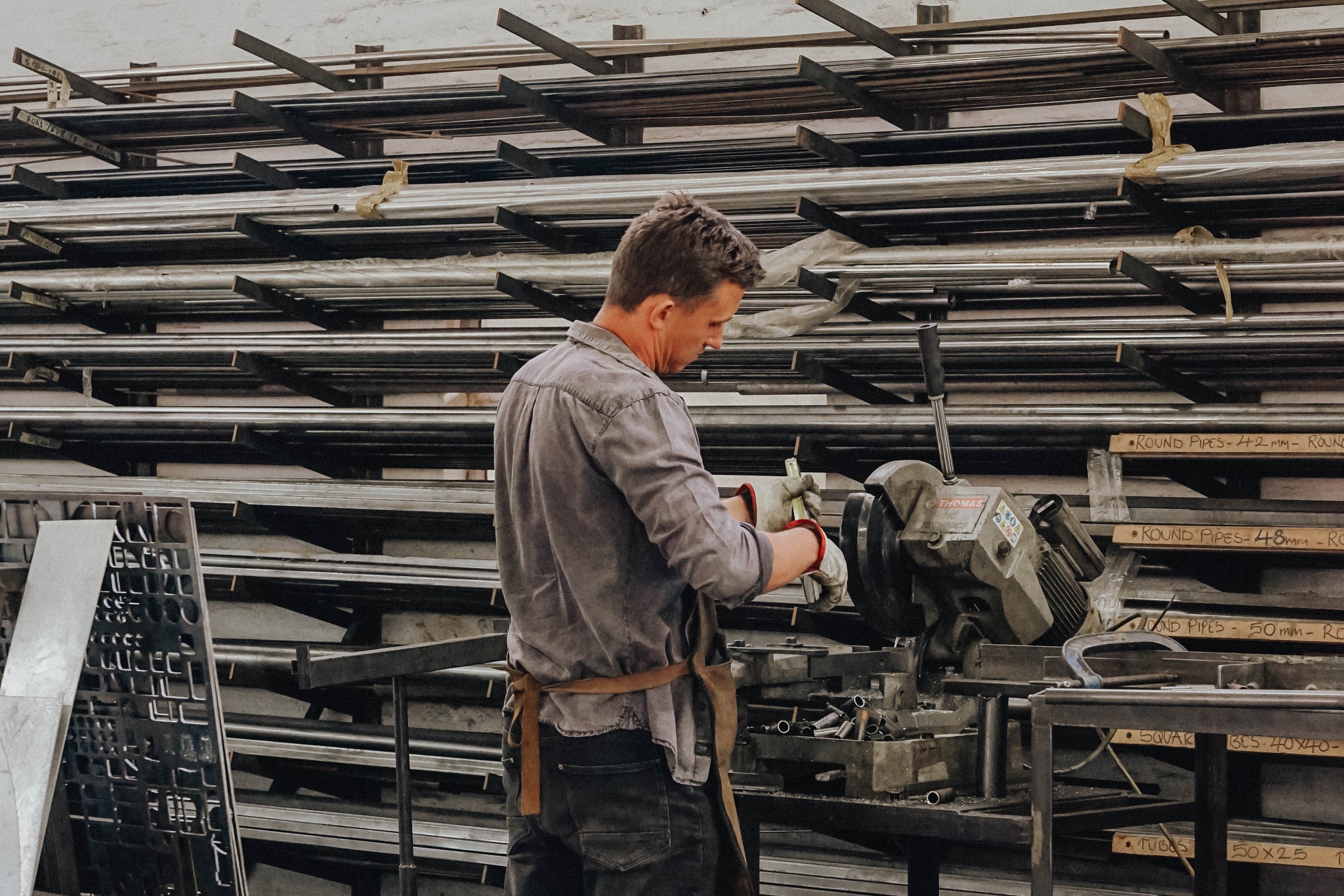 Still curious
Luke Pedersen is a walking paradox. On the one hand, you could say he's a dreamer - an idealistic iconoclast - waxing on about the importance of play, of building a better world, taking risks, and staying curious. Yet, he's also as old school as they come. 
A firm believer in hard work, strong coffee and velcro sandals, here's a glimpse into the wonderful world and mind of P+L co-founder, Luke Pedersen.
Q+A WITH LUKE PEDERSEN
When did you first realise this is what you wanted to do?
When I was about 12, my future father-in-law taught me how to weld. This was a very formative moment for me as it sparked a curiosity in me to find out more about how metal works, and how to make something that was both strong and useful.
Together with James, you've managed to build a business that has not only survived, but grown from strength to strength – in a notoriously fickle and difficult market.  What have been some of the best decisions that have gotten you to where you are today?
I think the combination of being willing to work hard, but to always return to creativity and curiosity. This has been a very powerful touchstone for us – it's kept us from going too far in either direction. James and I have also made some tough calls on what not to get involved in over the years. We've guarded our focus and energy and that's definitely paid off in the long run.
Has the reality met your early expectations?
Look, the hard work was hard. I certainly didn't know what to expect from this career when I started out—there weren't lots of examples out there. But being in charge and in control of my own destiny has proven to be a very valuable thing for me. Still though, building a business and then building momentum has been incredibly tough. Not everyone appreciates that now, when they see where we are today, but our success now has been built through 15 years of hard work.
What do you enjoy most about your work?
I love the creative pursuit and finding new possibilities in materials or processes. That's the real gold for me. It excites me like nothing else. It makes me very impatient actually, because it's all I want to do, and what I'd always prefer to be doing.
What's your favourite piece to make?
The really simple ones, like the Osaka Candle Holder. I'd wanted to make a gift for my wife Jen and was walking around the factory, picking up offcuts off the factory floor. I tinkered around a bit and was probably 80% of the way there. Then we had a meeting with Decorex who asked us to create a trophy for Design Week. I'm not all that excited about trophies in general – but the idea of creating a useful trophy was intriguing.
I suddenly remembered my little personal project, jumped up right there in the meeting, grabbed it off the shelf, and everybody loved it. It still required a design sprint and serious team effort to resolve and have ready in time, but the entire process was super fun. It came out of play, from picking up random offcuts and thinking how to make something meaningful out of them.
What is the most treasured P+L piece in your home?
I tend to end up with a lot of our weird (slightly failed) prototypes, and I love them all, but there's this cantilever side table we made that's definitely a firm favourite in my home. It reaches over the couch arm, and we all fight over who gets to sit next to it and use it. 
What's currently keeping you up at night?
At the moment, I'm dreaming a lot about how to close the loop environmentally. That's probably my biggest driver. I call it 'recovery' – taking by-products and turning them back into resources. I'm interested in seeing how we can do that on a bigger scale too. So, I'm playing around with all of our 'waste'. I'd love to get to the point where we have zero waste. That would be amazing. 
As a company, I think sustainability is such a worthy long-term goal. We can always, always do it better, there's always room for improvement, so we'll keep pursuing that forever really. Sustainability doesn't end on our factory floor either - it continues into every area of our business. 
Any advice to others in the industry?
Work hard. Take risks. Even failure, maybe especially failure, is an amazing teacher. And whatever you do, commit to adding value. Despite the setbacks and challenges of building a business locally, there's loads of hope and opportunity out there. We have a lot to be grateful for—when you actually look around—there are so many people rising above the chaos, supporting one another and working together for the greater good. 
"I wish I was told this earlier, but curiosity is a very powerful tool," added Luke. "Acknowledging it as such gives you permission to play, and when you do that, you open a door to whole new worlds of possibility."
ON CURIOSITY
Valuing curiosity has meant shaking off the notion that it's just a frivolous pursuit, but instead, an essential component of Luke and James' business model. 
"Furniture is serious," reflects Luke. "Tables and chairs can't just look good, they need to work, to function as intended. But the creativity of how you get there – that's where curiosity sets you apart. Curiosity allows you to imagine what does not exist yet. Because, let's face it: the world doesn't need another chair. But it could do with some different ones."
The Umpire range is a great example of this—emerging through literal play. 
"Jen and I were brushing up on our skills the week before the James Fish Tennis Invitational, and I saw this rusty, old umpire chair beside the court. I just stood there – looking at it. It was such an ugly thing, but it also presented such a beautiful opportunity and challenge.
The unique circle profile of this range, with the legs coming directly out of it, came to me as I opened my eyes that Monday morning. I grabbed my pen and scribbled it down, then rushed to show Amber. With less than a week to go, we attempted to make it a reality – in honour of tennis and play in general. It was such an amazing process. The whole team got behind it, and within another day, we'd made the prototype, and finished the chair by Friday!
Mimi put it up on our socials, and the response was just phenomenal. That confirmed again for me the importance of play, and the role of our business to not only access that place ourselves, but bring others along with us."
Luke's final words on the subject?
"Give yourself permission to play, and stay curious. Not just in your work life, but in all of life. Being curious about everything (even your responses to others around you) has turned out to be a very effective way to live."
---
Comments
---