The Art of Collaboration: A Look Inside Design Week Challenge 2023
November 17, 2023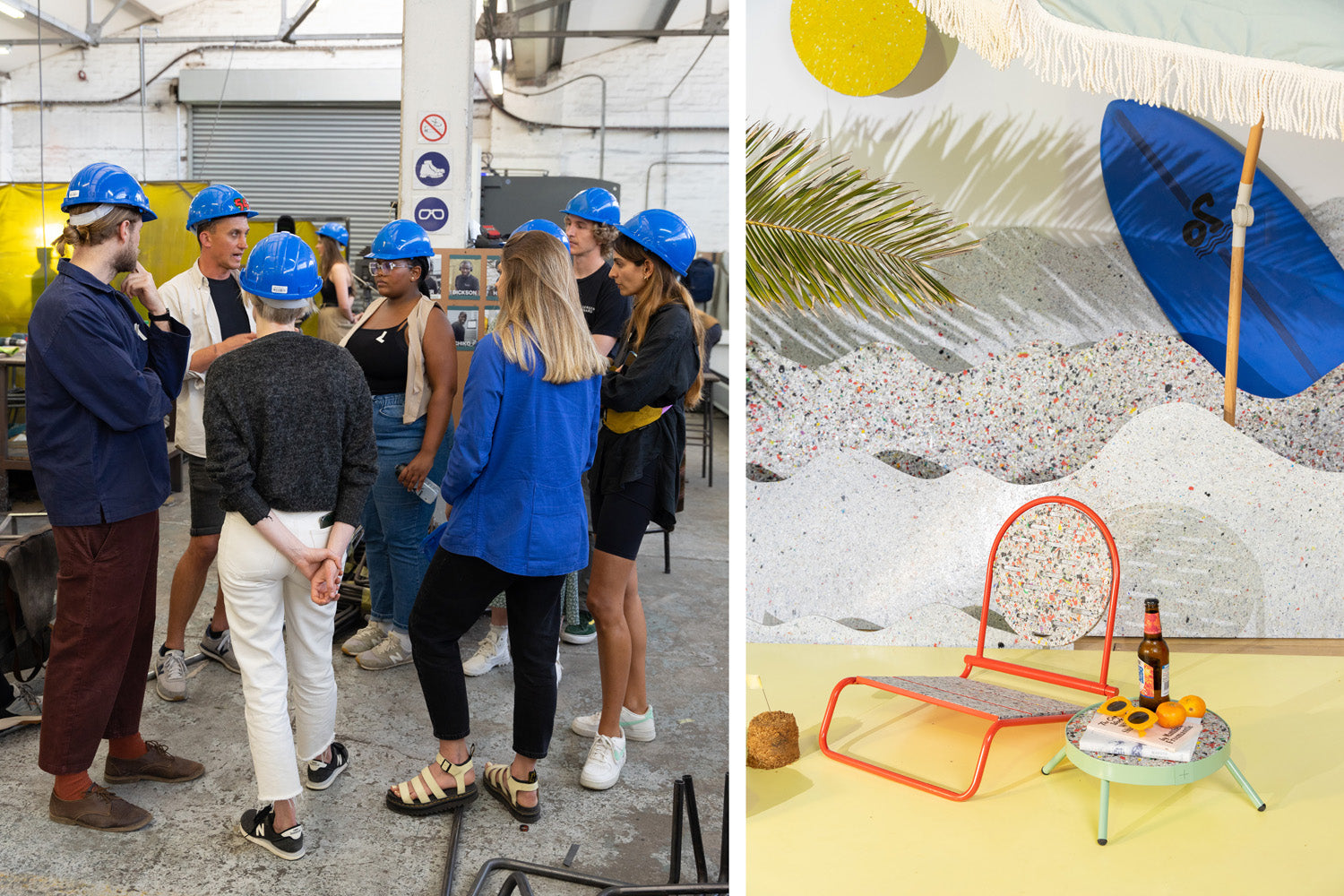 A Look Inside Design Week Challenge 2023
The Pedersen + Lennard Design Week Challenge (DWC) is an embodiment of three core values: the discipline of creativity, transparency, and the mandate to champion design in South Africa. 
This year, we struck out for new horizons and invited a group of multidisciplinary designers from around South Africa to join us. Each of them spent a full week collaborating with our own team on the ideation, prototyping, and production of a new product (spoiler alert: there are actually two products and they're both for the beach!) that we released for sale on the Pedersen + Lennard website at the end of the week-long intensive. Sounds hectic? You bet. 
The challenge
A key part of the challenge is the formula of design constraints issued to the group. This year's constraints: 
- Design a product from start to finish in one week
- The product must be suitable for the beach or a campsite
- Feature the hero material recycled plastic
The Hero Material
Centring recycled plastic boards was an intentional move from the Pedersen + Lennard team to explore the use of a new material that turns waste into furniture that can last for generations. Usually considered unrecyclable, these plastics are collected from depots, heated, and pressed into boards, resulting in a durable item that requires no extra finishing and can survive in all kinds of environments.
The Process
Based on the core value of transparency, DWC 2023 welcomed a multidisciplinary and talented team of architects (The MAAK), product designers (Bopa Mmuso), tech innovators (Yoco) and outdoor retailers (K-Way) to open up the creative process. 
Working together every day (and the odd late night), caffeinated by Cedar Coffee and nourished by a rotating cast of the city's finest lunches, the team moved swiftly and with much gees from hand-drawn sketches, cardboard models, workshop mock-ups, and 1:1 prototypes to create two exciting new pieces and Pedersen + Lennard's first-ever beach products!
The fruits of our labour? Please welcome the Atlantic Beach Chair, foldable and with elegant curves that fit into any playful seaside scene. To complement it, the DWC team created the lightweight Atlantic Beach Side Table, designed to fit into a tote bag and elevate your beach-side experience. Both products are available now in an array of 5 summer colours.
The DWC Players
The designers: Ashleigh Killa + Max Melvill from The MAAK, Nora Zuche from Yoco, Iska Jordaan from K-Way, and Lindiwe Gugushe from Bopa Mmuso. From Pedersen + Lennard: Amber Robertson, Michael Hardham, James Hagen, and Luke Pedersen.
Supporting brands: Studio H, Sugo Deli, Sealand, K-Way, Jack Black Brewing Company, Hoghouse Brewing Company, Arthur's Mini Super, iGadi House Boutique Hotel, Frankie Fenner Meat Merchants, and Cedar Coffee Roasters.
Content Creation: Meg Carrie (Social Media Coverage) and Ben Mall (Product Photography + Videography)
Catch up with all the action through our DWC Highlights and Instagram Reels and see you at the Pedersen + Lennard Design Week Challenge 2024!
---
---