Meet the designer: James Lennard
February 21, 2022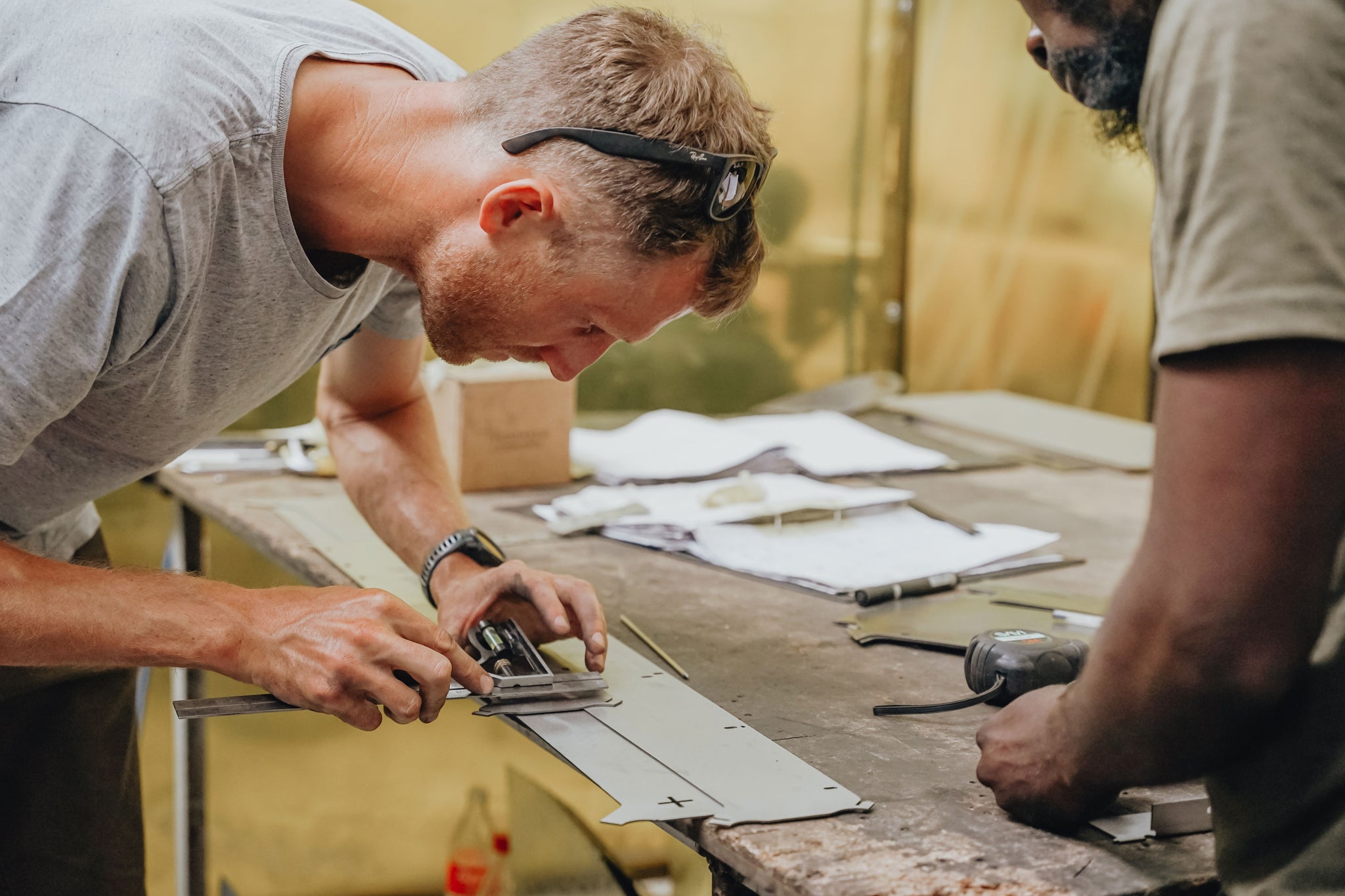 Uncommon sense
James Lennard is a lot like the pieces he's spent his life crafting...
- Considered (if you're looking for small talk, look elsewhere).
- Authentic (as original and honest as they come).
- And with absolutely no unnecessary adornments (in speech, emotion or attire).
He would cringe at these analogies of course, because above all, James is anything but a soppy sentimentalist.
Still, the road that has led him to where he is today is as unique as the man himself. Born and raised in Noordhoek, James spent his childhood barefoot and sunburnt: surfing, skating or working with his architect dad in their home workshop. Shaping sandboards and skateboards, or making things out of the scraps left behind from other projects.
After finishing school, James then chose a path less travelled. Instead of rushing overseas or headlong into tertiary studies — he spent a year apprenticing with a local artisan and handyman:
"We did anything and everything... welding and forging steel mostly—the work wasn't that exciting, but it was good experience."
When asked if he had always felt an innate pull toward industrial design, James answers in his typically blunt fashion: "Not really. I kind of...just... fell into it."
He met fellow student (and co-founder of P+L), Luke, on their very first day at Cape Tech: "Luke was the friendliest guy in the registration line-up, obviously." Despite being seeming opposites in personality, the pair went on to collaborate on a number of projects throughout their studies: "Why work alone when you can do something together?" says James pragmatically. "We'd ask our lecturers, and most times, they wouldn't mind us collaborating—it was just easier that way, we worked well together."
After graduating, James spent over a year travelling and working overseas. So did Luke (on opposite sides of the globe). Then not long after both had returned to the Cape, they once again met up and found themselves working together.
This time however—not on a school project—but on a shared dream to "build a good, honest business that employs a decent amount of people and creates really well-built pieces."
Starting in a small workshop in Woodstock, and selling their wares over the weekend at The Old Biscuit Mill's Neighbourgoods Market, their Bucket Stool quickly became something of an icon.
"We had no clients in the beginning – we were just creating stuff that we liked, trying to see what had traction."
This led to their first really big break: a commission to outfit the Old Mac Daddy Luxury Trailers and Restaurant in Elgin.
"It was crazy - we built ourselves into a factory," reflects James.
Today, that factory employs just over forty people, and Pedersen + Lennard pieces are known throughout the world.
"It's never been about becoming a furniture celebrity though," James adds. "I don't care about the name or any kind of fame. What I'm really proud of is what we've been able to build, through a hell of a lot of hard work."
QUICK Q+A WITH JAMES LENNARD
What advice would you give to your younger self?
Be careful what you wish for.
What do you most like to do here?
Over the past few years, I've spent most of my time fine-tuning production, trying to optimise our processes and dealing with all the unexpected challenges that crop up on the factory floor (almost daily). Now, I'm trying to work myself out of that job, and work more on the business than in the business.
What P+L piece are you most proud of?
There's no one piece that comes to mind... I'm most proud of our manufacturing techniques, the standard practices we've set in place, and the overall quality and turnaround time of each item we make.
What is your most cherished P+L piece at home?
Our Escarpment table, made from Jarrah wood.
Any advice to others looking to build a successful business?
Navigating growth can be just as challenging as no growth—it involves dealing with a host of complexities and admin. I don't think a lot of people are prepared for that, we certainly weren't. What's most important is building a great team, and recognising their worth by paying them well. This isn't simply an altruistic thing to do, it's just common sense... when you properly invest in your people, the loyalty and dedication you get back far outweighs the cost.
---
Comment
---